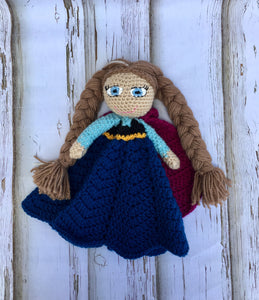 3 Generation Crafters
Anna Lovey
Regular price
$30.00
$0.00
Tax included.
Welcome to 3GenerationCrafters. Thanks for stopping by our shop!

We are a family who love to craft. We have a variety of knit, crocheted and stitched items available. Our items make lovely gifts for any occasion.

We love Disney almost as much as we love crafting! Many hours have been spent with Grandma watching all the classic Disney movies. Now that we have the fourth generation to watch Disney movies with, we have fallen in love all over again with the classics and have a new reason to catch up on all the newly released animated movies.

Your little one will love this Anna inspired lovey doll. It is the perfect gift for your child to snuggle up with while watching their favourite movie. This lovey doll features the signature white streak of hair and her braided pigtails. This doll's skirt is made to resemble the outfit Anna wears while in searching for Elsa and with her signature cape attached. Her light blue eyes and pink smile have been stitched on using embroidery thread.

Our lovey doll is approximately 25 cm or 10" long (from top of her head to the bottom of her skirt). She is made from non-allergenic acrylic yarn and stuffed with fibre fill.

We recommend hand washing or placing the lovey in a mesh laundry bag or pillow case and washing on gentle. This lovey can be tumble dried on a low setting.

She is a safe choice for toddlers as her features are stitched with yarn rather than using items such as buttons to create eyes.

Please check our store for other princess, as we continue to work on our collection. As always, contact us if you are interested in different colours combinations, as we can offer custom orders.

Thank you to Amy at Spicy Tuesday crafts for her notes to make the princess lovey.

Also, thank you to Briana Olsen from Bowtykes for your Pretty Princess Lovey pattern. We have enjoyed this pattern so much!


***We are not affiliated with Disney and do not claim copyright/ownership of the original character that inspired this lovey.
---