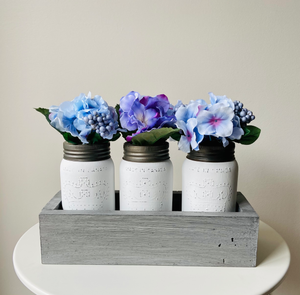 The DIY Grey "Stain" Trough Boxes I have been debating about offering a different colour for our trough boxes for a while. I'm not usually a fan of light wood stain.  I blame my Dad, all wood in our house growing up was given a clear coat, so the lovely yellowness of the pine was shining through.  Very in style in the 90's.  My Dad would gasp at this, but I was leaning towards a coloured stain. I saw a post from Rustoleum with a beautiful grey stain.  I wanted to see it in person before I bought it and...
---
Originally posted on December 29, 2018 on our previous website platform. The love we have felt for our side hustle (also knows as Aunt Karen's retirement dream) has been amazing this year. Our sales at the markets and shows we attended were beyond our expectations. We have grown our social media presence and have sold items via Facebook and Instagram. In doing so, we have been in touch with people we have not seen or heard from in years. Along with all of this, we teamed up with Leighla's Love Bags to help provide postage for their care packages. In...
---
Originally posted on September 4, 2018 on our previous website platform.   The idea for this blanket started when my husband's long time friend and his wife announced they were having their first child. I knew I wanted to make something with a classic Canadian feel as we live in the picturesque Muskoka Parry Sound region of Ontario, Canada.  I searched Pinterest for something gender neutral, something classic yet modern and something with a Canadian feel.  I came across the Hudson's Bay Baby Blanket by Tiffany at Daisy Farm Crafts.  I had already pinned a bunch of their gingham blankets...
---
Originally posted on May 25, 2018 on our previous website platform. Whistle and Ivy has the most adorable crocheted baby sandal pattern on their website. Someone tagged us in it on Facebook and since then they have been flying off our hooks. Here is a pair in grey and baby pink. Another in grey with iced aqua. And here in grey and warm rose We have many more colour options planned. Keep checking here and our Facebook page to see what we stitch next. You can find the original pattern on Whistle and Ivy's page by clicking hereCrochet Baby Sandals
---
Originally posted on March 13, 2018 on our previous website platform. Thanks to an inquiry from an old friend, looking for a hat to match our popular work sock booties, we have created a new pattern using the classic white, red and white strip of the traditional wool work sock. Our work sock booties have been one of our best sellers at our summer farmers markets and Christmas sales venues. It seems that everyone knows someone who wears the traditional work sock and has a new baby in their life. We currently offer our work sock booties in three sizes...